It's strange times around the world right now.
   Hmmm, do you think St. Patrick is watching from wherever he is?
    As I watch "FEAR" growing steadily across our country, and now, close around me, I'm getting to practice everything I ever preached about positive outlook, anchoring, breathing . . . etc. Schools, Senior Centers, St. Pat Day parades, and the Sunwater Spa where I work are all closed down to protect children/parents,, employees, guests, and all people to keep them from bumping elbows and catching a virus. And its just when my Irish dance group, Mountain Eire, after weeks of practice, was stepping out to do seventeen dance performances all over 2 counties, celebrating, and bringing "smiles" to this Irish celebration. It's all cancelled now.
    Many of you are also experiencing the shock of what's being called "a pandemic", so I'd like offer some of the expertise of people I highly respect.
    First, from a long time friend and dentist in Mexico; Dr. Cinthya Duarte, calls this "a mediatic alarm" . . . mostly about what the media is spreading. "I have contact with many MDs", she says, "We agree; just be safe. Don't kiss anyone you don't know, wash your hands, don't touch your face, and drink a lot of water."
As of yesterday, at the strong suggestion of 2 doctor friends, plus my daughter,
Shawna, I've had to cancel this week's long planned trip to Mexico to see Dr. Cinthya. Their concern isn't just for me. Being in airports for several hours could expose me to something I'd bring home to Robert. At 84 years, he's considered very vulnerable.
    Now I'd like to share with you the words of David Pond, well known Astrologer. He says: "The full moon, an extra large supermoon, occurred last Monday in health conscious Virgo, bringing the collective awareness of coronavirus to a peak. With the moon opposite highly imaginative Neptune in conjunction with Pisces, the susceptibility to fear is off the top of the charts! The virus feeds on FEAR, which generates

more FEAR . . . HOW TO BE PRUDENT WITHOUT BEING FEARFUL?"
    He says: "Along with good hygienic practices, feed your lungs big DEEP BREATHS of healthy air. And be THANKFUL FOR THE BREATH OF LIFE!" GET OUTDOORS IN A GOOD, SAFE PLACE AND BREATHE, IMAGINING HOW HAPPY YOUR LUNGS ARE WITH THIS LIFE GIVING FORCE!"
    "Fear and Faith are flip sides of the coin of Imagination, and the one you feed will grow . . . FEED YOUR FAITH."
    Finally, NBC News interviewed a Psychologist Friday night. His emphasis was on understanding two things:
       1. Fear is a natural, Sympathetic Nervous System response to danger. This is the Fight/Flight/Freeze Nervous System all mammals and reptiles have . . . it alerts and protects us.
       2. His other point was that humans are a HERD SPECIES. If there is danger the whole herd will protect and defend . . . hence all the decisions, worldwide, to stay home and cancel travel, school, shopping, going to the gym, even church until the herd, as a whole, feels safe and protected by our leaders.
Oh what an interesting time! It's a perfect and powerful reminder to practice STAYING PRESENT! . . . TAKE ONE THING AT A TIME, and, if we have to go out to Walmart, Safeway, Costco, or any place that has a lot of worried humans . . . Oh please . . . ANCHOR!  Feel/imagine a strong cord stretching from the base of the tailbone deep into the ground below, and attaching itself there. Now feel/imagine another cord extending from the middle back of your skull, and stretch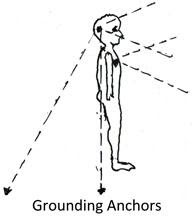 ing diagonally backwards and down, deep into the earth. Attach that cord there. This is the line that pulls us upright and away from what's right in front of us, and gives us "PERSPECTIVE" on whatever is there.
    Try it. You'll be surprised at how effective these tools are!
So I just found out yesterday that:
       1. SunWater Spa is closed until further notice.
       2. Heart of Manitou (where my private office is) has closed the building until further notice.
       3. So I took a drive above the clouds to the top of Pikes Peak to dance and released my heart.
   
    Now I'm reaching out to friends who have building space to find a clean office I can work out of for a couple of days a week. Robert and I will be calling to update anyone who is already signed up for a treatment. Please stay in touch . . . especially if you need to talk to someone. My home number is 719-684-0112. I will make myself available.
    Let's all stay well and enjoy this respite in our usually full life.     
 Sending Warmth and HAPPY ST. PATRICK'S DAY,                                                                                        Kathleen